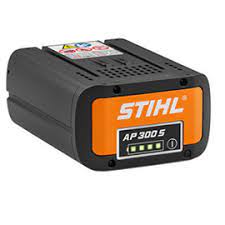 STIHL AP 300 S BATTERY
$319.99
The AP 300 S battery continues to build on STIHL's robust lithium-ion technology, improving in two key areas – power output and energy content. With an energy content rating increasing from 227 WH to 281 WH and power output being raised from 1.8 KW to 2.1 KW, the AP 300 S Battery will appeal strongly to current and future users of STIHL's Professional Series of lithium-ion battery tools. The improvements to the AP 300 S Battery will also allow for a 25% increase in working time compared to the current AP 300 Battery. The increase in performance is sure to impress any pro battery tool user. The charging level indicators, along with an ability to work easier in rainy conditions, will help make the AP 300 S a must have.
Call us at 1.866.344.SAWS (7297) for more info.
Contact Woodsman Equipment to check this product's availability.